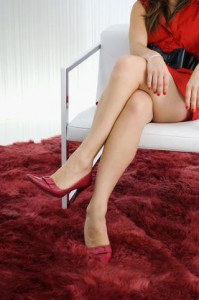 Red is a very classic color but at the same time needs great courage to wear it. Many women shy from wearing red as they find it hard to carry off. But women remember if you learn art of wearing red color it can do wonders to your appearance.
You need to have a great confidence for wearing red dress or red accessory but once you manage to do it with style will be the hottest one. But if you are not at all comfortable with red color then at least add a tinge of it in your appearance. Even a small touch of red is vibrant enough to give life to a drab outfit or to your visual aspect. Let's see how it is possible:
If heading for a business meeting or office you can invigorate your attire by teaming it with a pair of high-heeled red pumps or red stilettos. Your will look so dashing to take away everybody's attention from work. With knee-length and pencil-cut skirts it will look better to draw eyes to your shapely legs.
This tip is equals to applying zero effort. Just wear red color wristwatch with jeans and loose t-shirt and you will look instantly alluring and smashing.
Team your skirt, pant or jeans with a red color top. It is enough to add a touch of vibrancy to your appearance. It is also a very good example of instant style with zero effort.
In spite of wearing little black dress this time go wearing little red dress to a party and you will certainly earn oodles of warm welcome. Little red dress is equally ravishing as little black dress to look at.
Applying red color nail polish to fingernails is also a superb idea to stylish and hot. Or can be said hands can also do a lot of things to appearance. Red-painted nails look very chic and sexy.
Wearing red jewelry is also a great way to look chic and stylish.
Do not leave even a single of wearing red. Even keep your sleepwear also of red color. Red sleepwear is very pretty. It is great to be stylish even on ordinary nights.
The above pointers draw you towards wearing red either in dress or accessory but do remember a word of caution while wearing red that is do not overdo it. It is a powerful color and can stand for itself. Therefore when wear red keep it simple because it is an accessory all its own.
Comments