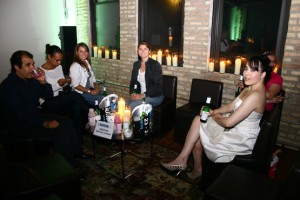 Wish to get noticed is inherited in men and women both. They want to look so attractive so that everybody's eye ball turns towards them. Especially at night clubs and pubs all wants to make their presence felt, by grooming in the striking manner. If you also want to look outstanding at each night out go through the following tips written below. They will guide you on how to groom for a casual night out. Tips are given for both genders.
For Women
Layer dresses are much in rage presently. It imparts stylish yet casual look. Or you can opt for layered tops and team them with denim jeans or denim skirts. Both make awesome pair and get you noticed in the party. Another option is to opt for Capri pants. They are also hottest in trend. These outfits are perfect for everyday night out.
Main addition to dress which completes it is accessories. Wherever you are heading they are must to wear. Sparkling necklace, earrings, bracelet, fingering etc. are must have for night out. You can also wear accessories made of precious or semi-precious gemstones for your night out.
Do not forget to complement your outfit with a suitable pair of footwear. Footwear is very important accessory for completing look. Clunky shoes are good, as they look casual yet add elegance to the attire. Thick sole shoes are best to wear with jeans while high pencil heels are the best option for skirts.
Also do something different with your hairs. Try a zigzag hairstyle for a different look. Pony tail is the hottest hairstyle in trend nowadays. Deck it with shiny beads as accessories for a prominent look. This hairstyle is simple as well as perfectly suitable for a night out.
For Men
The best bet for men goes to regular night outs is collared shirt with a casual jacket and team them with denim jeans. This combination is perfect to get into simple and stylish look. V-neckline t-shirt would also serve the purpose well. If night out is very informal you can also wear khakis. If you want to wear trousers make sure they do not have pleats and are not too formal.
Accessories are must for the finishing touch hence accessorizes you with chains and bracelets. A belt is also a very good accessory. Accessories imparts a dash appearance for a night out to men.
Choose perfect footwear for outfit. Sneakers are good option if wearing jeans. Also wear simple leather shoes with pants or khakis. For men these are perfect.
Your hairstyle should be neither too funky, nor too formal. Go for an informal hairstyle.
If you are a frequent goer to a night out it is not possible to wear something unique on regular basis. You need something that is simple yet best at providing stylish look. The above tips will certainly get you that look that will be simple yet provides fashionable look.
Comments