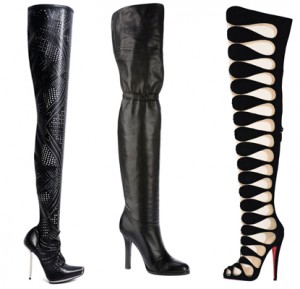 Accessories are most important in dressing for shining personality. Scarves, sunglasses, bracelet, earrings, necklaces etc. all are destined for it. But accessory that is ruling the runway for 2009 is leather boots. They are on the top in this year accessories list. Rage amongst men and women have raised a lot for them.
Leather boots imparts pulled together look being fashionable and exude a strong confidence in appearance. They also indicate boldness and firmness, thus making their distinct fashion statement. It does magic even to simple looking dress by oozing out grace through it. Like wear simple leather skirt with chiffon top and pair it with earrings and leather boots. You are all set to blow fire on stage.
Leather boots are not new to the fashion world. They are adorning appearances since long before but latest haute couture trends in them has what made them highest in demand. This fashionable accessory is just amazing. Especially for winters leather boots are perfect. With being covered fully it is quite difficult to flaunt style, thus wear leather boots to fulfill the desire. Wear jeans teamed with coat and knee high leather boots, gosh you will look awesome being chic. Leather boots are just ideal for winters.
Leather boots covers not just feet but goes high up to your ankle or even more till thighs. Leather boots having high heels are much more gorgeous. They come in shoe style also called bootie and are absolutely flat.
Whether opting for high heel boots or flat ones they should lend perfect grip and support and for accomplishing them boot should be of right fitting. Thus look for right fitting ones as it gives space to toes to breathe. Also too much softness and too hardness is not good. Too soft leather boots causes ankle sprains and too hard ones causes limping and affects walking. Go for medium leather boots that are blend of softness and hardness. Other factors to be kept in mind while selecting leather boots are weight, climate and the place you are going to wear them.
Leather boots are highly seen amongst celebrities and super models, which proves their popularity. Flaunt your style with trendy boots but it should reflect that you have made an intelligent choice.
Comments