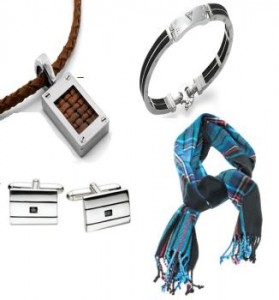 Men are equally associated with fashion today as women. They are no less in any regard. And this proved by large fashion ensemble of men. It consists of everything ranging from stylish outfits, trendy footwear, designer watches and leather wallets to fashionable belts, trendy sunglasses to fragrant perfumes etc. You will find all this in their closet. Thus fashion is everybody's cup of tea today. This fashion driven world has pulled everyone towards it.

The above accessories can be worn at anytime of the day by men. They are all time enhancers. But men have separate accessories for winter time also. Their winter fashion accessories list is also long. It includes woolen scarves, stoles and mufflers. Pashmina and Cashmere shawls, leather fur jackets, leather coats, leather gloves, boots etc. For preserving head against cold there are warm hats and caps. The winter accessories of men are in great vogue and impart stylish look even in winters.
Watches and wallets have become must have fashion accessory of men. Their look and feel should be in accord with latest fad. Digital watches are selling like real hot cakes. Watches are also hitting markets in exclusive styles. Also watches are different in types like sports watch, dress watch, casual watch and celebrity style luxury watch.
Leather wallets are another highly momentum gained fashion accessory. Men taking them out look fashionable and smart. They have gained much popularity among men. Leather briefcase are also great in demand and considered extremely stylish. They add on to the look and indicate boldness and style.
Men also wear jewelry nowadays to add a touch to elegance to personality. They are very eye catching too. Bracelets are in rage amongst men. Full name or initials can also be carved on them. Earrings are another way of accessorizing. Chains are also greatly worn by men which can be further enhanced by hanging pendants in them.
Accessories are an integral part of a man's wardrobe and are a blend of style and comfort. They impart rocking appearance to men. Also they are good at winning women's heart.
Comments