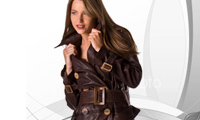 Girls best friend i.e. Leather Trench Coats are continuously hitting the ladder of success since years for every season. At every point this fashion icon has got updated from traditional to classic to modern to contemporary all versions.
Its arena is not limited to fashion but cover practical aspect also. Quality to protect from rain shows its practicality. This classic icon of style has outlived every trend and has convinced every new generation. For every season it comes up as a great trend. Evolution in colors is the latest trend seen in them. As compared to earlier neutral colors like blacks, brown and gray, today sizzling reds, pure whites, innocent pinks etc all have taken a great toll and spell magical fragrance wherever you go. Go great in chic colors for stylish and a contemporary look.
Apart from classic, other adjectives that define leather trench coats are sexy and seductive. Not only in real life but in movies also it is limned as provocative wear oozing great sex appeal. Quality to showcase each and every curve of the body is the sexiest part of leather trench coats. Above full-flow skirts they look amazing. They are also a solution of argumentative topic that even long dresses can be sexy!
Most probably sooner this chic style will be seen in work places also. You can add personal panache to your looks with various styles trench coats. Plunge into this leather fashion stream and get your coveted length leather coat in numerous leather types. Also have a look on its details popping in leather trench coats fashion like belts, cropped or puffed sleeves, cuffs, pockets, zip out trench leather coat and contrast piping to add a dash to your outfit.
Chic leather trench coats are one of the highly advocated pieces for a stylish woman's wardrobe. It makes a smart trendy pick for every season. Even on your casual attire they work as an added accessory!
Comments