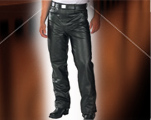 Are you fashion savvy? Are you eager to call yourself rock star? Do you always want to look fashionable? All this is possible only when you are sporting a stylish leather pants. This style is in fad since last many years and is still so and will always be.It is attractive not only by looking but by qualities also.
Versatility to wear them at anytime of the year is their greatest advantage. Secondly it is in budget outfit, not very costly, thus affordable by all. If these are the excuses for not wearing leather pants do not worry anymore. Wear this enormously trendy outfit without keeping any confusion in mind. It is today's style.
Presently the hottest trend in leather pants is the skinny leather pants. Almost everybody looks fantastic in them. With stilettos or those big bulky boots they look stunning. There is another style in leather pants i.e. low slung hip huggers. It is also a very popular style that looks great.
If you are tensed about what to pair with leather pants, the options are unlimited. Main thing to consider is that it's not compulsory to team leather pant with leather top only. Contrast does more fine. A loose fitting top looks great on it. Magical thing is that without showing off the body you can still be sexy. Skin baring, super sexy top will also look equally ravishing.
Leather pants are rapidly making way in offices also. They look outstanding with a slim fitting leather blazer, hence appropriate for wearing in a professional workplace. A crisp shirt gives a smart look with leather pants.
It's hard to resist yourself from hot leather pants. Their amazing silhouette is great furore amongst people and is very exotic. The way it beautifies curves is just amazing and can leave anybody flabbergasted.
Comments