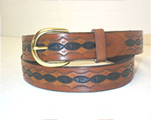 Once a necessity, today a trend: yes we are talking about exclusive leather belts only. Today's great emerging trend is leather belts. They have made a great boom in the fashion industry with their enticing appeal. Earlier they were just used to hold pants and skirts but with changing times they have evolved a lot and result is in front of all.
Leather belts have become a very popular fashion accessory. They are looked upon as fashionable and glamorous item. For outfits they have come up as a blessing. They impart an unbeatable look to outfits by adding spice and glamour to them. Even they accentuate the best curves of your body. Leather belts have become a very good investment in style.
Unlike before, today leather belts are available in numerous shapes, forms, sizes and colors. This hot fashion accessory can be worn on every outfit and every figure. But simply wearing is also not good. Thus here is a small guide that will help you to wear leather belts in the best possible way.
Leather belts on different figures
Big leather belts are not for voluptuous and petite figures. They make these figures look more bulky. Narrow leather belts are good for them.
Wider and broader leather belts are commended for tall and slim figures. They enhance their looks by giving them curvaceous look.
As it is said dark color gives slimming effect, thus if having bulging belly do wear dark color leather belt above it so as to look slimmer. Black will be the most apt color.

But belt should not be too tight as fat bulges out of it. Another option is to wear leather belt above hips. It takes away attention from your stomach. It is also a great style nowadays and much in vogue.
For fuller figures cinch leather belts are a very good option. They create an illusion of hourglass figure by getting tuck in your waist.
Now you will be clear on which figures what leather belts will suit. The best part is that these tips will come in use whether you are wearing them on formal or informal occasion. Any look can be created in them. Leather belts are a great way to jazz up your outfit by giving them trendy and stylish look. They lend the unique appearance amongst all.
Comments