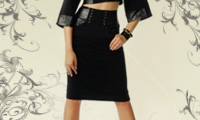 Trend is one such thing that never remains constant. It keeps changing with upcoming seasons. This season emerging trend is leather pencil skirts. They have become a great talk of the town and women also find it very interesting. It befits all age and all shape women.
There is no need to do any brain storming before wearing them. It is so because everyone looks tremendous in leather pencil skirts. They have become a favorite of all including celebrities. Many are seen hitting runways in them.
Most amusive part about leather pencil skirts is that though they are tight in silhouette and have narrow bottom but still very comfortable in wearing and do not give tart look on wearing. They are very gentle and lend a classic look on wearing. Now unlike before you do not need to wear skin tight clothes so as to look hot at the cost of comfort level. A leather pencil skirt is a very good substitute of it.
Varying lengths increases the demand for them more. Different lengths suit different figures. Wear length that suits your figure. It saves your legs from looking stubby. Like this there are many other ways of wearing leather pencil skirts. It is quite versatile and can be worm from office to parties to night clubs to dinner outings to daytime outings to casual wear etc. Similarly it can be paired with different types of accessories and other wears. For example, printed cardigan looks awesome above it and gives a complete professional look. Button up shirt also takes its look to the pinnacle.
Belts look great on them. Another way to wear it is by balancing its silhouette with top by wearing voluminous top above it. The lovable part of pencil skirts is that they can be teamed with any style shoe and still give surprisingly great killer look. For giving a little more edge to your looks tone down your leather pencil skirt with leather blazer jacket.
All these qualities have earned leather pencil skirts high scores on the fashion runways and red carpet. There is no doubt about their essentiality as they are very stylish and bestow feminine charm. The fashion buzz is all about them, thus one of the most important wardrobe essentials.
Comments