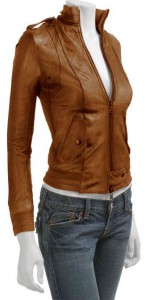 Women's leather jackets have always been around in the fashion market.  It never really has gone out of fashion. And doesn't look like it will ever fade, women leather jackets are here to stay forever. So make the most of it and grab a leather jacket immediately.
More than looking stylish and sophisticated the best part about these leather jackets are that they are so comfortable and warm that you wouldn't really feel the outer climate. Whether it is the rains playing havoc or the chilling winters, you will not feel any of these because women's leather jackets are meant to keep the beautiful ladies away from the harsh climate.
Leathers are always expensive so buying one would be tricky because you want the best when you are shelling out so much. Here are a few types that you can go for in leather jackets.
The best style to opt for is the suede leather jacket. They are the latest and the trendiest. It is leather but when looked at from a distance it looks like any other jacket. The material used is very soft and smooth. It is not heavy and all these details give it a feminine look. But be careful when preserving a suede leather because it might be difficult and do not use it in rains. You also get suede leather jackets in slim fitting and also long ones. They look perfect and give a glamorous look.
To look more stylish you can also go for leather jackets with fur on it. There are many varieties in the same. You can find a leather jacket that has fur on the collar or the neckline or even the hems of the sleeves. You also get leather jackets with a combination of wool. It provides more warmth.
When you buy a leather online, pick one size bigger because it turns out too tight it will go waste and if it is loose you can always alter it. Preserve your leather jackets nicely so that they last longer. And when you grow out of them, you can pass it on to the coming generation.
Comments