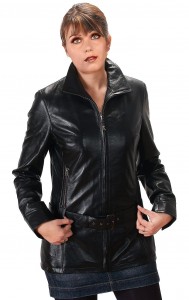 The fitted women's leather jackets have been the latest trend on the runways and have been adopted by various celebrities this has become the latest style of the high street fashion. The leather clothing has achieved a new level with fitted leather jackets. There is not other outerwear in comparison when it comes to selecting the fitted leather jackets, they are available in many colors and patterns like 3/4 sleeve trimmed leather jacket, short length fitted leather jacket and much more. The desert color theme is the latest in leather fashion these days…so this article to make all those leather enthusiasts aware of the latest in designer leather jacket trends.
Long gone are the days when leather jackets was just worn by men riding bikes; the women's leather jackets have taken a whole new shape making them look sturdy and savvy. The women's motorcycle leather jacket is an eye catchy feature; these classic fitted leather jackets are designed to reveal those sensuous curves making men go weak on their knees. These full sleeves liner is designed especially for winter months to keep your warm and make you look hot.
The other designer apparel that should be includes in every women's wardrobe is the designer leather skirts. Leather skirts are the best fashion for women, it has the ability to enhance any figure, this is one of the most versatile attires that can be paired with any outfit. They can worn to office and to any event depending on the length of the skirt. This is one fashion which no woman should give a miss.
The latest trendsetters
Pencil Leather Skirts :-
This is one attire which fits well and can be accommodated in office, making it an ideal and stylish office wear. It hugs the body from top to bottom with a small slit at the back making it comfortable for you walk around. One of the most fashionable designer trends.
Pleated Leather Skirts :-
The pleated pattern is definitely a classy option; the best way to look good in pleated skirts is to buy them in short lengths, they have the ability to make the heavy figures look slim and slender adding glam to the whole attire.
Keep visiting this blog for more updates on the latest designer trends in leather wear.
Comments