There was a time when women were the one who had the craze to sort their wardrobe with a set of outfits and accessories that make them appear classy. Among the fashion outfit pants are the one that are seen in piles in every man's vault. Below mentioned are the styles in voguish pants that are seen in every male's cabinet.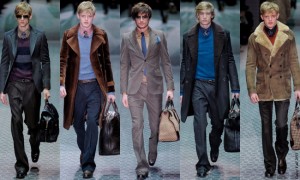 Denim Pants: Denim is the cloth that not only gives out ample amount of comfort but also have the features to go with formal as well as casual outfits. Hence, most of the men tend to have a set of denim pant that not only go with formal events but also blend with a range of casual apparels.
Straight Cut Pants: Men who like to phase up with the fashion cycle like to gear up in straight cut pants. Most of the on screen celebs and models have the mania for this particular stylish pant as it makes them appear different from the normal bunch of men.
Narrow Bottom Pants: Narrow bottom pants are the one that are at the top in the set of trendy pants. These pants are very much preferred for assorted casual functions especially for casual parties and cocktails. Narrow bottom pants give out a stunning appeal when teamed up with loose tees and long coats.
Boot Cut Pants: This style of pants is in trend from 60's fashion it gives out a retro look when worn with the right outfit. Most of the men opt for this pant while going for theme based parties. They go with any kind of outfit but give out a finest appeal when worn with checked or lined shirts and tees.
Leather Pants: Leather pants are the all time favorite among every man. The best thing about these leather pants are they easily go with every outfit seen in the market place but also sustain in every season. Most of the men opt for leather pants because they are the one who sustain for years in their vault.
Cargos: Young boys tend to keep a set of cargo pants in their cabinet that give them the peppy teen look. Cargo pants can be worn with loose tees, shirts, and jackets to get a funky appeal.
Classy Formal Pants: There was a time when formal pants were only worn for official purposes but these days most of the men feel easy when they slip in a formal trouser. Therefore, opt formal pants for a range of official as well as colloquial functions.
Studded Pants: Most of the pop singers and on screen celebs these days are pictured in studded pants that let them get the classy appeal. The best thing about studded pants is they are designed in leather that makes them get a glossy and shiny texture.
Ankle Length Pants: This is the recent updates in the fashion world that is mainly preferred by the men who like to get the punk look. These pants give out a peppy appeal when worn with tees, chain, and an elegant shoe.
Among all these trendy pants denims and leather pants are the ones which are in the market from past few years and will remain in the fashion world for ages.